At Chaska Chiropractic and Wellness, we take great pride in providing the finest chiropractic wellness care to our patients. Below is a sampling of the different chiropractic services we offer in our Chaska office.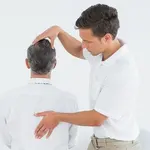 Spinal Manipulation/Adjustment
We provide spinal corrections utilizing gentle chiropractic techniques. Never in the history of chiropractic have we been able to provide the level of help and expertise that now exists. These newer correction methods are even safer, more comfortable and more effective than ever before. As a Doctor of Chiropractic, Brande Searson has years of training and experience in spinal adjustment.
---
Foot Levelers
Your feet are the base that your body stands on. If your feet are weak or have structural problems, this can lead to problems in your knees, hips and low back, and can even cause headaches. Many people wear orthotics and foot levelers because they are good for their feet, but orthotics are even more important for those who experience pain after extended walking or standing.
---
Cranial Sacral Therapy
A manual therapy focusing on manipulation of the bones in the skull and sacrum.